Sport & Adventure Motorcycle Pad BC1312
13", 33 cm wide by 12", 30.5 cm long
Sport & Adventure Motorcycle Pad, BC1312, can reduce Pain & Fatigue, by Increasing Blood Circulation, and Absorbing Shock. Designed to increase your comfort and endurance, on or off road. Built tough and reliable, it will never lose it's effectiveness over time, where as foams, and gels do. BikeCushion is air adjustable, and makes a custom fit to your shape.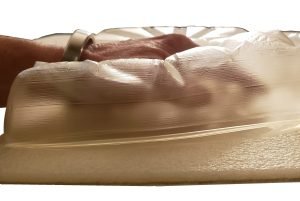 Features:
Adjust air in 3 chambers for stability and to customize the fit for you.
Special cover design keeps the seat cool and dry.
Thick long lasting polyurethane bladder with a 3 year warranty.
Raises you little from your seat when properly adjusted.
Voided areas to relieve pressures under the tail bone, crotch and ITs.
Textured urethane surface reduces heat and moisture from building up.
Light weight and long lasting, all models use three air chambers that can be adjusted to yourself.  This makes for a stable sitting surface and a custom fit. The air Adjustment will maintain itself for years. Recommended for seats up to 15" wide or narrower.
Package includes:
Long lasting 100% polyurethane air bladder.  3/4" 1.9 cm wide nylon straps and 4 nylon side release buckles.  Polyethylene close cell foam base, that holds the cushion together and has a high friction bottom.  Cover is two way stretch made with, 80% nylon spandex® top, and 100% nylon sides, . Inflation straw. Tote Bag, Owner's manual.
BC1312 Sport & Adventure Cushion video.
Condition: NEW Made in the USA
$120.00 includes shipping inside the USA