Your seat cushion worked great. It kept me in the proper position on the seat and helped to absorb the bumps. I felt very good after both days of riding and had no pain in my butt or back. I would recommend this cushion to anyone that wants to improve their comfort on a long ride.
Sincerely, Dan Larson
Thanks for a great product! Rode from Sedalia, MO to Green Bay, WI (13 !/2 hrs) straight through with only a lunch and supper break. Would have never made it on that rock-hard Corbin!!
Thanks Again! Larry
Bike cushion performed well on the 300+-mile ride home. The cushion remained neutral temperature, which was beneficial, and did not shift / move when attached to the bike. It was comfortable the entire ride.
Best Regards, Mike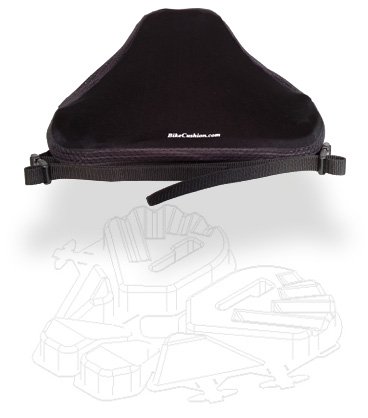 Performance Motor Pads™
Don't let a piece of foam diminish the joy of cruising. You've made a big investment in your bike, why not invest a little for yourself to maximize the enjoyment you get from riding?
BikeCushion Advantages:
Distributes weight by having high contact and improving blood flow.
Reduces pain and increases endurance.
Compressible air absorbs shock and vibrations easing the impact on your spine and hips.
Riding time increases and recovery time is reduced.
Versatile straps to fit any Motorcycle Seat.
Little ride height increase to your seat.(1/4″)
Lightweight, durable construction – Made In The USA
US Patent 7648191 B1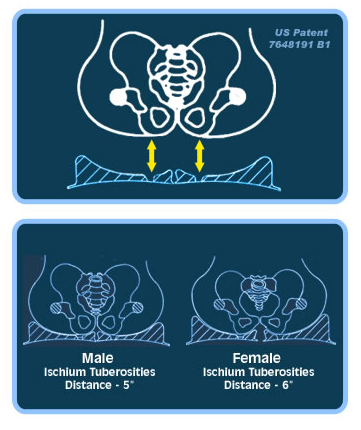 Saddle Sore, NO MORE!
Your butt gets sore because pressure on the knobby prominence of your rear end cuts off blood flow and that causes PAIN. Our Motorcycle Cushions are the only cushions engineered to cradle this area, improving blood flow, reducing pain and increasing endurance.
State of the Art Bone Suspension™
The unique pad design has three air adjustable Bone Zones for stability and control. Put the right amount of air in it for yourself and you will be surrounded in pure comfort.
Gender Solution – A Motorcycle Cushion Built for Lady Bikers.
The only Motorcycle Cushion available in Male and Female versions. BikeCushion perfectly matches each genders unique pelvis structure. The design aligns the bones to areas engineered to cradle the knobby prominence in a suspension of air held, and controlled in 3 zones for stability. Our Nylon cover allows the wind to flow under you and the pad for a drier and cooler ride.